On-Demand Webinar:
Automotive & Transportation Technology
Time:
1 PM EDT (10 AM PDT)
Overview
While polymer nanocomposites have fueled many remarkable developments in the automotive industry, commercial success of nano-enabled products in the automotive sector has been slow and, until now, limited to niche applications. Breakthroughs in polyolefin and polyamide nanocomposite synthesis, however, have changed their cost/performance structure and altered market demand. Green and biodegradable nanocomposites, furthermore, promise greater commercialization and increased application. The use of polymer nanocomposites in the automotive market is thus set to escalate over the next ten years.
Key Take-Aways
Discover the outstanding properties of polymer nanocomposite
Learn how polymer nanocomposites can reduce vehicle weight, improve engine efficiency, and lower CO2 emissions
Understand key drivers & challenges to development and commercialization
Review global status of commercialized polymer nanocomposites parts
Speaker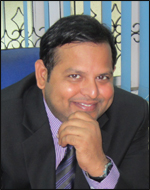 Vivek Patel
, Senior Knowledge Officer (SKO), Centre for Knowledge Management of Nanoscience & Technology (CKMNT)
Vivek Patel is a Senior Knowledge Officer (SKO) with the Centre for Knowledge Management of Nanoscience & Technology (CKMNT). His areas of expertise involve composites, polymers, chemicals, and nanotechnology. Previously associated with DuPont, Lucintel, and SperryPlast, Patel is a graduate of the Central Institute of Plastics Engineering & Technology (CIPET), India.