On-Demand Webinar:
Solar Energy
Time:
2 PM EDT (11 AM PDT)
Overview
One of the most important components for delivering solar power to the grid is the electrical inverter. The sun could be shining at optimum levels, but if the inverter is not converting that power to its full potential, the cost of that lost efficiency will be passed on to the end customer. A number of environmental and situational factors can negatively affect an outdoor inverter's efficiency, and unfortunately, there is no one-size-fits-all solution for inverter protection. However, through collaboration with the enclosure manufacturer in the design process, the inverter manufacturer will be able to ensure the best solution in four areas that are essential to building a reliable inverter: thermal management; environmental protection; operations and service; and transport and installation.
Key Take-Aways
Understand factors to consider for proper thermal management, including ambient temperature, waste heat generated by the inverter, location of air intake, intensity of fan, losses in airflow caused by changes in path, and the use of heat exchangers to cool printed circuit boards
Learn about the factors to consider for protection against the environment, including NEMA ratings, material selection and full-immersion primers such as epoxy-electrocoat
Discover the design factors that affect operations and service, including accessibility to components, shielding from electromagnetic interference and wireless monitoring considerations
Investigate the design factors important to the transport and installation of the inverter, including structural integrity for forklift and helicopter installations, as well as the use of pre-wired transport trailers
Speaker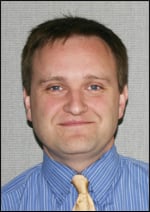 Steven Leidig
, Manager of Enclosure Engineering, Crenlo
As manager of enclosure engineering at Crenlo, Steven Leidig is responsible for new product development and design of Crenlo's custom enclosures. Leidig received his degree in aerospace engineering from the University of Colorado, Boulder. He has more than 16 years of engineering experience and holds several patents.