On-Demand Webinar:
Solar Energy
Time:
3 PM EDT (12 PM PDT)
Overview
Development of lightweight and relatively inexpensive photovoltaic sheets capable of converting of 30% or more of solar radiation into usable electric power would significantly increase the commercial market for photovoltaic panels and devices. This presentation will cover our novel and original approach for increasing photovoltaic efficiency. The technique is based on the effective control of electron processes via the nanoscale engineering of a three-dimensional potential profile employing quantum dots with built-in charge (Q-BIC).
Attendees will discover how even the first-pass nanoscale optimization of the Q-BIC medium provides an additional current of ~10A/cm2 due to effective harvesting and conversion of infrared radiation. Moreover, it will be shown that incorporation of the Q-BIC medium into single-junction solar cells does not adversely affect open-circuit voltage.
In optimized solar cells, every 1 mA/cm2 increase in photocurrent improves the conversion efficiency by ~1%. The presentation will show that in our devices the positive effect of charging dots is still far from saturation, and we believe that ~15A/cm2 increase in photocurrent will be demonstrated in the near future.
Attendees will learn that novel Q-BIC solar cell technology is completely different from the intermediate-band solar cell (IBSC) being developed by dozens of university groups and small companies. Contrary to the IBSC approach, which requires that quantum dots be homogeneous and small in size as well as regularly and tightly spaced, the Q-BIC technology with broad-range distribution of dot sizes provides broadband all-weather conversion of solar radiation.
The presentation will demonstrate how Q-BIC technology has strong potential for developing high-efficiency, light-weight, all-weather (broadband), rugged, portable and relatively inexpensive photovoltaic devices capable of converting 45 - 50% of solar radiation into electric power.
Key Take-Aways
Learn how nanotechnology enhances photovoltaics
Understand challenges and possibilities in the modern market of high efficiency solar cells
Discover how novel design using charged quantum dots overcomes fundamental limitations and gets the photovoltaic efficiency above the Shockley-Queisser limit in a relatively simple single-junction device
Speaker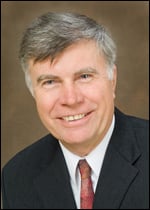 Vladimir Mitin
, Acting CEO, Optoelectronic Nanodevices LLC
Vladimir Mitin is Acting CEO of Optoelectronic Nanodevices LLC. His expertise in science and engineering is recognized by several professional societies and he has been elevated to Fellow by IEEE, APS, AAAS, and IoP. He has fourteen patents and has published four monographs and five textbooks. Dr. Mitin has managed research in his group at the University at Buffalo, graduating eighteen PhDs and directing more than twenty postdoctoral associates. He was also the Chair of the Department of Electrical Engineering for two terms.