On-Demand Webinar:
Solar Energy
Time:
1 PM EDT (10 AM PDT)
Overview
Solar electric power is a valuable technology providing continuous and reliable power when used in appropriate applications. Under the right circumstances a solar electric system will prove more cost-effective than other power technologies. This is especially true when powering equipment that has a relatively small power requirement and is located in a remote location without access to utility power.
While there is general awareness of solar technology and its overall capabilities, many engineers may not have a good feel for whether a solar electric system is an appropriate choice for specific equipment and locations. The size and cost of a solar electric system can be the better choice when compared with alternatives, or it may prove too large or too expensive.
There are fundamental questions to consider when sizing and specifying solar for a remote site. This presentation will present six questions for assessment about the location and equipment power requirements when considering solar for a remote location.
Understanding the answers to these questions will help attendees determine if solar is an effective technology for powering remote site equipment.
Key Take-Aways
Discover the key benefits of solar electric power
Learn how to determine when solar electric power is the most cost-effective power solution for outdoor applications
Understand how to assess/evaluate applications for solar electric power systems
Speaker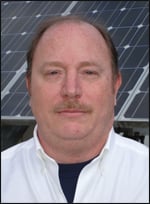 Richard Martino
, Engineering Manager, SunWize Technologies
With 35 years of experience in electrical and mechanical engineering, Richard Martino's background includes developing manufacturing processes for large electric generator components, research and development in ultrasonic devices and fiber optic amplifiers and attenuators as well as developing manufacturing processes for single-crystal materials. He has also designed crystal growth equipment, magnetic recording heads, and linear ferrite materials.
For the past ten years, Mr. Martino has been designing and building solar electric systems to power industrial equipment in remote locations on all seven continents and for a wide range of normal and extreme environmental conditions. He supervises industrial system manufacture in SunWize's New York State facility.
Mr. Martino received a Bachelor of Science in Electrical Engineering from SUNY New Paltz and an Associates of Science from SUNY UCCC.