On-Demand Webinar:
Wind Energy Technology
Time:
2 PM EST (11 AM PST)
Overview
One piece wind turbine blades have many advantages over multi-part blades. This presentation will describe, in detail, existing technologies for one-piece blade production that reduces weight, eliminates volatile organic compounds (VOCs) from the process and also reduces costs. The advantages of not having any adhesive in the blade will be explained and how the labor costs are significantly reduced by eliminating the final assembly of blades.
Quality control process overhead, which concentrates on the glue lines of a blade, is significantly reduced as the properties at the leading and trailing edges are not dependent on accurate distribution of adhesive and there are no areas along the spar that are not fully attached to the skins. Higher fiber volume fractions can be achieved throughout the blade surface without any dry areas, because no resin injection is involved.
Designers can reduce blade weight because of the improved mechanical properties of the laminate. Thick laminates in the spar and root can be processed faster as the materials are heat activated, which significantly reduces exothermic heat creation. Engineers involved in design and manufacture of blades and turbines will benefit by learning how the unique properties of the materials allow the component parts of a blade to be vacuum debulked into solid performs that can be assembled like a jigsaw puzzle before final processing into a seamless wind turbine blade.
Key Take-Aways
Understand a one-shot blade manufacturing system that can produce superior product faster in a VOC-free environment at a reduced cost
Learn how significant cost savings can be realized in final assembly and quality control
Discover how this processing system can reduce total manufacturing time for a blade
Become familiar with a blade molding system that combines integrally heated molds with powder epoxy in a unique way
Speaker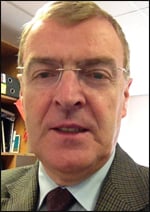 P.J. Feerick
, Managing Director, EireComposites Teo
Patrick J. Feerick is the Managing Director of EireComposites Teo, a composites design, testing and manufacturing company based in Ireland. Significant patented technology has been developed by the company over the last 12 years for manufacturing wind turbine blades based, in part, on autoclave processing of composite aircraft parts. He currently holds a number of patents in high temperature tooling for composites. His background is in plastics and he spent 15 years running his own company, producing a wide range of plastic products. He is the co-founder of EireComposites, which provides a composites testing and manufacturing service to the wind energy and aerospace industries.