On-Demand Webinar:
Plastics & Plastics Fabrication
Time:
12 PM EDT (9 AM PDT)
Overview
High strength glass bubbles have been developed and recently commercialized by 3M Company for use in plastic and rubber composites. These innovative microspheres, such as 3MTM Glass Bubbles iM30K, have an unprecedented strength-to-density ratio. The unique strength and particle size properties of these glass bubbles allow them to survive plastic processing, providing designers and molders new application opportunities for reduced weight parts. This presentation will detail application benefits for injection molded plastic parts containing high-strength glass bubbles including the primary benefit of weight reduction. It will also detail other benefits such as improved thermal expansion properties, increased stiffness, improved processing, lower fuel load, and improved dimensional stability (less warpage, shrinkage, and sink marks). Customer profiles of applications with 3M glass bubbles in plastic composites will also be presented.
Key Take-Aways
Discover how 3M™ Glass Bubbles can be used in thermoplastic, rubber, and thermoset processing applications
Learn how 3M glass bubbles can reduce the weight of plastic parts and improve physical properties such as CLTE, stiffness, and insulation
Hear how 3M glass bubbles can reduce cycle times in injection molding and cooling time in profile extrusion applications
Speaker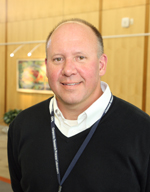 Steve Amos
, Senior Product Development Specialist, 3M EAMD
A Senior Product Development Specialist with 3M Company, Stephen Amos holds nine U.S. patents and has authored or co-authored more than 20 technical articles on subjects related to polymer processing. He has served on the Board of Directors of the Society of Plastics Engineers, Polymer Modifiers and Additives Division, and is a member of TAPPI and the ACS. Prior to joining 3M Company, Amos worked at Ethyl Corporation and Himont USA. Amos holds a BS in chemistry from the University of Wisconsin, Madison. He has an MS equivalent in polymer science from the International School of Advanced Studies in Polymer Science in Ferrara, Italy.