On-Demand Webinar:
Water Quality & Water Reclamation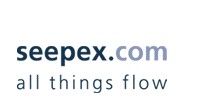 seepex Inc, is an ISO-certified company located in Enon, USA. seepex develops, manufactures and globally markets progressive cavity pumps, macerators and control systems.
seepex progressive cavity pumps in Tricam, 6L and conventional rotor and stator geometry are used in almost all industries for transporting and dosing thin or high viscosity products with or without solids as well as aggressive, shear sensitive and abrasive liquids.
The modular seepex design consists of 7 groups and 27 ranges with flow rates from 0.1 l/h to 500 m³/h and pressures up to 48 bar. It can be combined with a large number of different materials to offer optimal technical and economic solutions with lowest life cycle costs for almost any application. Based on this, their product and industry specialists design customized solutions with every seepex pump.
seepex offers their worldwide customers competent and personalized cooperation with seepex in conjunction with a new sales organization, which is oriented to branches and industries. This organization efficiently fulfills the specific requirements of their customers in the chemical, food, and paper industries, petroleum market and environmental technology, plus many more industries.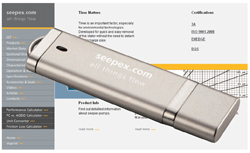 Prizes/Giveaway
A wealth of pump application and performance data is now available on a new Flash Drive from seepex, Inc. Known as seepex 4.0, the stick is configured with a 1GB embedded Website with a comprehensive menu. Tabs include market data and a complete seepex product catalog with detailed specifications, brochure downloads, sectional and dimensional drawings, performance curves, operating guidelines and maintenance tips. There are also technical articles, videos, and interactive calculators for pump performance, PC vs. AODD, and friction loss. The seepex 4.0 Flash Drive is available at no charge to interested parties by calling 937-864-7150 ext, 145 or by e-mailing dlakovic@seepex.net.