On-Demand Webinar:
Machine Tools & Metal Working

This booth is sponsored by the Metal Powder Industries Federation (MPIF), a federation of six corporate-membership trade associations representing the interests of the various segments of the powder metallurgy (PM) industry: component producers, powder producers, equipment and services suppliers, metal injection molding suppliers and companies engaged in isostatic pressing of powder materials or castings.
MPIF's mission is to promote its member companies and educate and expand the understanding of PM technology and its manufacturing strengths and benefits. One of our main activities is focused on the development and promulgation of industry standards supporting the use of the technology. In the last twenty years, the technology has greatly expanded and the material systems commonly used in our industry have been accepted by a wide variety of industries using metal components and sub-assemblies. Industries such as automotive, aerospace, medical and dental, business machines, appliances, recreation and hand tools, electronics, and industrial motors and controls have all benefitted from the high tolerances, consistency, high volume, performance materials and high value PM provides.
The information available here can lead you to a better understanding of the opportunities offered by the PM technology for your component and product needs. It is a starting place for information that should expand your horizons to the wide variety of approaches that can be considered with PM. In addition, there are case studies and video presentations designed to pique your interest and stimulate your imagination.
All visitors to our booth will be sent a digital copy of the current industry Standards 35: Materials Standards for PM Structural Parts and Material Standards for Metal Injection Molded Parts. Both contain extensive data on material properties and performance characteristics that can be expected from the industry.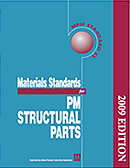 Prizes/Giveaway
Stop by our booth during the live event day and be automatically registered to win Standard 35: Materials Standards for PM Structural Parts and for Metal Injection Molded Parts.
These standards provide the latest engineering property data/information available to specify materials for structural parts made by the PM and MIM process. Developed by the PM parts manufacturing industry, each section of the standard is clearly distinguished by easy-to-read data tables and explanatory information for each material.