On-Demand Webinar:
Machine Tools & Metal Working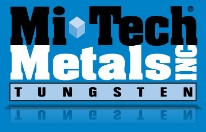 Mi-Tech Metals, founded 1978, is one of the world's leading manufacturers of Tungsten Alloy and Tungsten Composite materials. We are the mill - a small business, veteran owned - located in Indianapolis, Indiana - our products are DFAR compliant. Mi-Tech is committed to providing quality products on time to our customers. Our products and services meet customer requirements and exceed expectations. We have provided quality products and excellent customer service to our customers.
Superior quality, performance and reduced costs for materials and finishing-tungsten alloys, our Chatter Free and Super Chatter Free® products, set the standard for boring bars and grinding applications. Use our high-density alloys for less vibration, heavier cuts and better finishing. The high-thermal conductivity of tungsten alloys means your tools run cooler and last longer, and braze directly to materials without affecting physical properties.
Tungsten alloys and composites can be found in a wide range of industries and applications from healthcare to aerospace, tooling to homeland security. Mi-Tech's knowledgeable employees are ready to help you make the most of our tungsten metal alloys or composites-delivering quality products with exceptional service. Mi-Tech handles all types of projects - one piece to production runs. Our AS9100 quality system ensures customer satisfaction.
Whether design or machining considerations - our highly skilled employees in our booth that will be able to help you. Fill out our survey to enter our drawing to win a Mi-Tech Shirt.
Visit our booth to learn about Mi-Tech Metals or at: www.mi-techmetals.com
Prizes/Giveaway
Visit our booth and chat with us to be entered for a chance to win a Mi-Tech Metals T-shirt.