On-Demand Webinar:
Power Generation & Distribution Equipment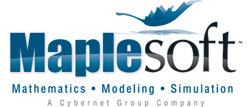 Maplesoft is the leading provider of high-performance software tools for engineering, science and mathematics. Its product suite reflects the philosophy that given great tools, people can do great things.
Maplesoft's core technologies include Maple, the world's most advanced symbolic computation engine, and MapleSim, advanced system-level modeling and simulation software. Combined together, these technologies enable the creation of cutting-edge tools for design, modeling, and simulation. Maplesoft's products help to reduce errors, shorten design times, lower costs, and improve results.
Maplesoft's suite of engineering tools reduces the burden of developing high-fidelity models of power generation systems, including gas and steam turbine generator sets, and wind, wave, and solar energy systems. Compared to traditional simulation tools, Maplesoft's next-generation graphical tools for model development and analysis dramatically reduce the time and cost of up-front analysis, virtual prototyping, and parameter optimization of system designs.

Maple and MapleSim are used extensively for designing systems throughout the power generation and distribution process. The product suite includes tools for easily transferring work into an existing design toolchain, such as MATLAB® and Simulink®, and is especially useful for hardware-in-the-loop simulations.

Prizes/Giveaway
Stop by our booth during the live event for a change to win a Maplesoft gift bag that includes:
Stainless Steel Water bottle with Flip Top
Double Walled Travel Coffee Mug
USB/Laser Pointer Pen
Computer Accessory Travel Kit
Eco-friendly Tote Bag
Conference Note Book
Key Chain