On-Demand Webinar:
Aerospace Technology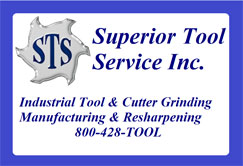 Superior Tool Service, Inc. is a full service industrial tool & cutter manufacturer. We offer our own line of cutting tools including carbide end mills for Aluminum, Steel and Titanium. We also manufacture carbide tapered drill reamers, burrs and drills for composite applications.
If you need custom tools instead of "off the shelf" cutting tools stop by our booth and let us show you how we can make just what you need for your application and material, making a "Superior Tool" for your job. We will custom make your tool (diameter, flute length, radius, etc.) with only a short lead time and a very competitive cost. While you're there learn more about our coatings (TiN, TiCN, TiAlN and more, including Diamond) designed to increase the life of your tools.
Don't buy "off the shelf" cutters when you need a tool that's "Superior" to get the job done!