On-Demand Webinar:
Industrial Processing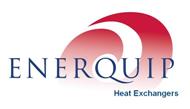 Enerquip has been a leading designer and fabricator of shell and tube heat exchangers for over 40 years. Our reputation for high quality and fast delivery have earned us a preferred supplier status with leading companies in the sanitary markets (food, beverage, dairy, pharmaceutical) as well as the industrial markets that we serve (chemical, pulp/paper, waste water, renewable energy, power, military).
Standard Heat Exchangers
Enerquip has a full line of standard sized heat exchangers available in both sanitary and industrial models for fast delivery. We also stock replacement tube bundles, gasket sets and other parts for our exchangers to support our customers' maintenance programs.
Custom Heat Exchangers
If you need a custom exchanger for a unique heating or cooling application, Enerquip's experienced engineers can design the right exchanger for your process and space constraints. Using the experience gained from building literally thousands of different exchangers, Enerquip applies leading design software and modern manufacturing methods on every new design we create.
Custom Fabrication
In addition to high quality stainless steel heat exchangers, Enerquip also fabricates other process related stainless equipment for OEM's and system providers. These include:
Membrane Housings, Filter Housings, Pressure Vessels, Supports/Hangers, Ductwork and custom components.
Whether you are looking for a solution for a heating/cooling application, or you have a need for unique stainless steel equipment, Enerquip has a reputation for innovative designs, efficient manufacturing, excellent quality and outstanding customer service. Make Enerquip your preferred supplier "when schedule counts".
Visit our booth to learn more about Enerquip's products.