On-Demand Webinar:
Industrial Processing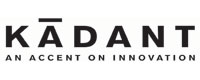 Kadant Johnson Inc. is a leading provider of rotary sealing solutions. Rotary unions, also referred to as rotary joints and swivels, are sealing devices that connect rotating equipment to fixed piping for the transfer of steam, water, thermal oil, coolant, hydraulic oil, air, and other media.
In addition to rotary unions and related accessories such as flexible metal hose, syphons, and sight flow indicators, Kadant Johnson also designs and manufactures steam handling and distribution systems that include Liqui-Mover® condensate pumps, steam jet thermocompressors, direct steam injection water heaters, and other steam handling products.
Stop by our booth on January 16 to learn more about how Kadant Johnson can help you save on energy and reduce maintenance costs while increasing process efficiency.