On-Demand Webinar:
Quality, Test & Measurement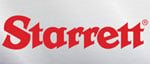 The L. S. Starrett Company, founded in 1880, manufactures more than 5,000 variations of Precision Tools, Gages, Measuring Instruments and Saw Blades for industrial, professional and consumer markets worldwide.Starrett, a leader who has set the standard for fine precision tools in industry for over 131 years, has rightfully earned the title, "World's Greatest Toolmakers".
Our booth is featuring some of our newest innovations:
Force Measurement Systems: They provide you with a reliable, accurate and easy-to-use solution for applications ranging from determining simple peak load measurement, load/extension at limits, or more complex break determination.
Roundness Measurement Systems: They offer a flexible solution for all your roundness and form requirements with a variety of systems and application specific accessories along with fixtures that can be tailored to your specific need.
HDV300 Digital Video Comparator: Innovative new system combining the power of the Optical Comparator with digital video, hi-resolution cameras, telecentric optics and LED illumination.
Primalloy Bandsaw Blades: With Extended Life Treatment (EXT) functionality, they last 40% longer on tool and carbon steels and 20% on stainless steels.
2900 Series Electronic Indicators: Built with IP67 protection and customary Starrett quality, they maintain their reliability in hostile shop environments.
Custom Gaging Solutions: For over 50 years, we have provided solutions to industries including energy, aerospace, automotive, food packaging, high-technology plastics, medical components, NASA and other government agencies.
Starrett Bytewise Laser Measurement Solutions
Talk to one of our experts to win a Dial Caliper. We hope to see you there!

Prizes/Giveaway
The Starrett 120 Series Dial Calipers are the only American made dial calipers. Features include direct reading, ease-of-handling, reliability and accuracy making these one of the handiest measuring tools available. This model features white dial, 0-6" range, and .001" graduations. Click here for more information!