On-Demand Webinar:
Electronic Components & Product Design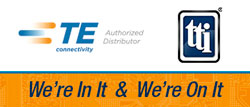 TE Connectivity and TTI Team Up to Present Smarter, Better, Faster - Exactly When You Need It.
Stop by our booth to learn about the latest, best-in-class, high-speed interconnect solutions for power, signal, telecom, datacom, industrial applications and consumer electronic products. Our showcase includes the Z-Pack HM-Zd Plus connector offering an increase in data rate performance to 15-20 Gb/s; the CXP Pluggable I/O connecter and cage assembly with twelve channels of 10 Gb/s data rates in a one-piece, press-fit assembly; and the IMPACT ™ backplane connector system available in two, three and four pair - all immediately available from TTI.
TTI product experts will be available to help you with your design, procurement and supply chain questions and challenges.
TE Connectivity, the world's largest provider of connectivity solutions, focuses on fueling innovation and growth. With approximately 500,000 products, TE Connectivity solutions touch nearly every aspect of our lives.
TTI, Inc. is the world's leading authorized distributor specialist in the electronic component industry. The company's extensive product line and supply chain solutions have made them the distributor of choice for consumer electronics, industrial, transportation, and military/aerospace manufacturers worldwide.
If it needs to be smarter, better, faster, TE Connectivity is in it - when you need exactly the right part at exactly the right time TTI is on it.