On-Demand Webinar:
Industrial Automation & Robotic Systems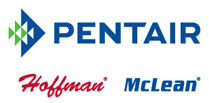 Pentair Equipment Protection, a division of Pentair, is the leading provider of worldwide product and service solutions for enclosing, protecting and cooling electrical and electronic systems. We help protect components from extreme temperatures, environmental elements and harmful substances. Our industry-leading brands-Hoffman®, Schroff®, McLean®-provide a broad variety of standard, modified and engineered solutions to the commercial, communications, energy, general electronics, industrial, infrastructure, medical and security and defense markets.
With over 65 years of industry-leading design and manufacturing experience, Hoffman offers a wide range of protective enclosures, including standard, modified designs and more customized engineered solutions, to protect controls, components and electronics. From clean-rooms and control rooms to factory floors and oil and gas installations, Hoffman provides essential protection from dust, dirt, oil, water, corrosion and other contaminants.
McLean's cooling technology helps create optimal conditions for the smooth operation of electronic and electrical components. Addressing manufacturing controls, telecom equipment, data networks and more, McLean applies 30 years of experience to meet specific challenges. From standard fan assemblies to air conditioners, heat exchangers to integrated and cooling enclosures for a variety of applications, McLean helps improve productivity and uptime with reliable products and services.
Hoffman EXCELERATE™ will be a primary feature at the event. EXCELERATE your project with an unrivaled offering of equipment protection solutions. With Hoffman's industry-leading experience and exclusive resources, EXCELERATE allows you access to over 12,000 standard products available immediately; plus thousands of common modifications in as few as 10 days. Custom solutions built to meet your more complex project needs ensure you get the right enclosure at the right time.

Prizes/Giveaway
Stop by our booth during the live event day and chat with our staff for a chance to win an iPad with carrying case. The tablet carrying case secures an iPad device with a shatter-resistant polycarbonate frame in a rugged, shock-absorbing silicone.