On-Demand Webinar:
Automotive & Transportation Technology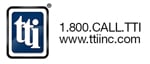 TTI Inc. and our participating suppliers welcome you to the GlobalSpec Automotive & Transportation Technology virtual trade show!
Maneuvering through the fast-paced Automotive and Commercial Vehicle marketplace can be a challenge. Take this opportunity to connect with the experts from TTI's Transportation Business Unit (TBU). The TBU team is dedicated to providing our customers with design solutions through the entire life cycle of transportation products; from concept and prototype through production. TTI's transportation specialists are on hand today to discuss the latest products across multiple applications and technologies.
Visit the TTI booth to find out more about the latest in:
Electronic solutions for automotive and hybrid vehicles
Technology trends in infotainment, driver assistance and connectivity
Board level components
Relays and switches for automotive, off road, agriculture, heavy duty and recreational vehicles
High voltage connector applications for HEV-EV
You will learn about TTI's premier list of suppliers offering state-of-the art technologies for automotive and commercial vehicles.
Engage. Connect. Learn. Turn to TTI for the latest technology solutions for this demanding market segment.