On-Demand Webinar:
Machine Tools & Metal Working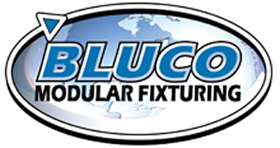 Bluco Corporation has been providing modular fixturing solutions to manufacturers, fabricators and welders for over 20 years.
Bluco's modular fixturing system for welding features precision machined welding tables and a reusable set of tooling components, including bolts, angles, clamps and blocks, to fixture parts of virtually any size and shape.
Whether you are exploring fixturing solutions for the first time, upgrading your capabilities or replacing cumbersome dedicated fixtures, Bluco can design a modular system to handle your parts.
If you are considering a robot, or already have a robot that is not busy, let us design a modular system so you can get the most out of your automation process.
Visit our booth on April 21st to learn how our modular fixturing system can:
Eliminate Rework
Streamline Production
Increase Productivity
Save you time and money
Bluco engineers will be on-hand to meet and discuss your workholding needs. Download application guides from our content library to see examples of fixturing solutions we have designed.
All attendees that chat with one of our representatives during the online event will qualify for free shipping on their first order.