On-Demand Webinar:
Machine Tools & Metal Working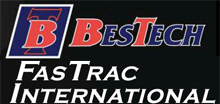 BesTech Tool Corporation has experience in virtually all facets of metal stamping tooling, in particular progressive and transfer dies. We have a strong background in the complicated draw and draw form parts.
To learn more about how we have built tooling for a wide variety of industries and are a tier two supplier for virtually all automakers, stop by our booth during the live event day to chat live with our staff!
As manufacturing finally emerge from an extremely difficult period, working with the right partners will help you have an edge over your competitors.
With all the new technology out there to help solve tooling problems, Let us show you how our years of old school experience can help you to best utilize that technology. BesTech has the depth of experience to put that technology to use for you.
While you're there, learn more about FasTrac International, our sister company, a production machining company that focuses on small to medium sized parts. Our niche is short volume runs from one part to several thousand parts. We do machining for a variety of industries with a large part of our business in the hydraulics-related industries.
FasTrac can take advantage of the engineering strength of BesTech to help you solve your tooling and machining challenges!