Sunlight Readable Industrial Panel PCs
Product Announcement from VarTech Systems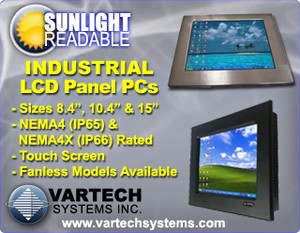 Our High Bright NEMA 4 (IP65) rated Touchscreen Panel Computer is designed to be placed in a variety of industrial and process control environments requiring protection at the frontal bezel from the intrusion of dust and/or splashing water and satisfies a wide variety of industrial control and man-machine interface applications. Equipped with a milled all aluminum, black powder-coated, beveled frontal bezel.
VarTech's NEMA 4X (IP66) rated touchscreen panel pc is designed to be placed in a variety of industrial, food processing or other process control environments requiring extra protection at the frontal bezel from extensive corrosive environments where the intrusion of dust, rain, hose directed water, applications where corrosive materials (for example saltwater) and caustic cleaners are used, sanitary poultry processing facilities (where total wash-down with disinfectants occur repeatedly), petro-chemical refineries and offshore drilling platforms for oil and natural gas. Equipped with a 316 stainless steel, gasket sealed, beveled frontal bezel.
These PanelPc's are powered by Intel's Powerful T4500 2.30 GHz 800MHz FSB Dual Core Processor with 2 GB of memory. Fanless models include Intel's ATOM Z530 1.6GHz processor and are integrated with 1GB of memory. For more details, options and specifications please visit VarTech's Sunlight Readable Panel PC section of our website.
Other features include: Watchdog Timer, storage (Supports 1 x 2.5" SATA HDD drive bay and Supports 1 x CompactFlash™), Windows XPE (optional OS available), bright active matrix 650 nits "industrial-grade" LCD, plus much, much more.
For More infomation on VarTech's Panel Mount Touch Screen computers Please Visit: NEMA 4 and NEMA 4X (IP66) Panel PC Computers / Industrial Grade All-in-One Computer Systems
For a price quote or for more information, please speak to a representative by completing the contact form at http://www.vartechsystems.com/contact or call 1-800-223-8050 (USA / Canada) or 001 225 298 0300 (International).
---