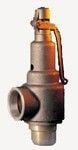 Engineering360 has asked its users about the latest design trends and features related to Pressure Relief Valves. They have also shared their product applications and tips on how to buy and use these products.
See the entire survey
What new technologies are influencing pressure relief valve design?
7 answers
The pressure relief and safety valves that I inspect on a daily schedule have not really changed in design over the years other than the huddling chamber safety valves on high pressure boilers.
~Joseph T, Senior Boiler and Machinery Inspector, Florence, MS
To be able to in situ test a safety valve on line and live the valve has to be designed to be able to carry out this test; most good valve companies are now recognizing this.
~Tony O D, Owner/Director of Valve Repair Company, Cork, IE
New specs in boilers, will influence the pressure relief valve design
~Marketing/Sales, Tracyville, Canada
More and more sanitary pressure relief valve applications.
~Bob C, Sr. Mgr Manuf Engr, Florence, US of A
Oil and gas exploration
~Jose P, Pressure relief valve maintenance and calibration, DOHA, QATAR
Information technology
~Ramon P., Design Engineer, B.s.b., Brunei darussalam
Pilot connection
~Engineering, Design, Yanbu, Saudi Arabia
From your perspective, which companies are creating the most innovative pressure relief valves?
6 answers
I would say, Dresser - Consolidated Safety/Safety Relief Valves
~Marketing/Sales, Tracyville, Canada
Conbraco, Kunkle and Consolidated Valve
~Joseph T, Senior Boiler and Machinery Inspector, Florence, MS
Leser, Crosby and Farris
~Tony O D, Owner/Director of Valve Repair Company, Cork, IE
Dresser and Crosby
~Jose P, Pressure relief valve maintenance and calibration, DOHA, QATAR
Global spec
~Ramon P., Design Engineer, B.s.b., Brunei darussalam
Kunkel
~Jon F, Engineer, Grand Island, NE