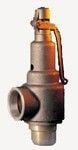 Engineering360 has asked its users about the latest design trends and features related to Pressure Relief Valves. They have also shared their product applications and tips on how to buy and use these products.
See the entire survey
Do you have any advice for people relative to buying or using pressure relief valves?
8 answers
Purchase the type of relief valve for the application of the vessel that the valve is installed. Example : air tank ( relief valve intended for air service) or hot water heating boiler (relief valve intended for hot water service) etc.
~Joseph T, Senior Boiler and Machinery Inspector, Florence, MS
Sizing a pressure relief valve to make sure of flow rates is vital before purchase, also Material spec is very important i.e carbon steel , stainless steel etc.
~Tony O D, Owner/Director of Valve Repair Company, Cork, IE
Buyers must not do search for what they may feel are equivalent to specified valve.
~Glenn M., Inspector, Greater Sudbury, Canada
Ensure spare parts availability and after sales services.
~Jose P, Pressure relief valve maintenance and calibration, DOHA, QATAR
Check relief flow capacity not just pressure setting.
~Bob C, Sr. Mgr Manuf Engr, Florence, US of A
Don't buy cheap, you get what you pay for.
~Jon F, Engineer, Grand Island, NE
Always use global spec
~Ramon P., Design Engineer, B.s.b., Brunei darussalam
Witness test
~Engineering, Design, Yanbu, Saudi Arabia