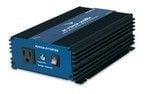 Engineering360 has asked its users about the latest design trends and features related to DC-AC Inverters. They have also shared their product applications and tips on how to buy and use these products.
See the entire survey
What would your design or feature "wish list" be for this product?
36 answers
Mass produced low cost grid-tied macro-inverters (300W to 600W) that can work in remote regions (without conventional grids) with a captive smart-grid. The modular design should permit both consumer and the micro-grid to expand as the energy-needs of such first-timer users grow.
~Gulshan K, Manufacturer, New Delhi, India
Close to true sinusoidal wave production. Consistent performance throughout heat and life cycle. Tolerance for input variations or a compatible external component that will be tunable to specific needs. This would increase the useability of a single DCACi.
~Al, Engineer, Charlestown, NH
500W out put power 60Hz true sine wave Operating ambient temperature range -10 degree C to 45 degree C No-fan cooling less than 1kg in weight
~Henry L, Consultant, Taipei, Taiwan
Design and manufacture of programmed and dedicated 50 Hz or 60Hz pure sine wave microcontroller chip. Mains failure semiconductor device switch.
~Engineering, Faculty/Staff/Student, London, Great Britain
To make it very easy for everyone to understand and to make it more powerful for automobiles, to be used in hill stations.
~RAMANI S., C.E.O, CEHNNAI, INDIA
The best self protection possible, diagnostics of any faults and where possible best information on battery conditions.
~Daire O B, Engineer, Dublin, Ireland
Switchable line frequencies of 50, 60, 400 Hz Variable output voltages around 117 and 208 VAC
~John C, Unemeployed Test Engineer, Springfield, VA
High frequency with in-built power factor correction (PFC) and battery charging capability.
~Engineering, Design, Rawalpindi, Pakistan
Conmuter devices with low series resistance, high operating temperature an high frequency
~Baldemar Maya, Ph D Student, Guadalajara, Mexico
Overcurrent protection, voltage control, overtemperature protection, power efficiency
~Leroy S, Student, Brooklyn, NY
Improved Reliability, reduce Maintainibility, extend Waranty (product life)
~General Corporate Mgmt, San Jose, CA
Can accept variable voltage and frequency from wind turbine alternators
~Florante Ferrer, Design Engineer, Binmaley, Pangasinan, Philippines
When you input any variable dc and obtain the output of your choice
~Tavit M, Engineer, Beirut, Lebanon
Input voltage low ripple pure sine wave EMI,RFI protected
~Sajjad Hussain U, Technical Support, Islamabad, Pakistan
Automatically sync to other units in multiple installations
~Jonathan White, Engineering Consultant, Wilder, VT
The ability to produce a narrower sine wave to save power
~Engineering, Faculty/Staff/Student, Phoenix, AZ
Backup Transfer time should be less than 10 milli seconds
~Arumugam P, Research & Development, Mumbai, India
Scalable designs, to meet a variety of power levels.
~Engineering Consultant, Calgary, Canada
I`d like to play with full bridge by new conception
~Eduard Kotleba, Electric supervisor, Nove mesto nad vahom, Slovakia! EUROPE
Built-in intellegence to monitor back up time
~Research & Development, Calcutta, India
Integrated gate drives, and fpga for control
~Engineering, Faculty/Staff/Student, Edmonton, Canada
To rich high efficiency and longer lifetime
~Yara Huliehel, Student, Bear-sheva, Israel
Cost, higher wattage in a more compact unit
~Mike S, General Management, Hatboro, PA
Efizienc - Sabiliti - Power - Temperatur <>
~Nagy László, Manufacturer, Traunreut, Germany
Some speciality in battery charging system
~Ansari Nouman, Design Engineer, Karachi, Pakistan
Very compact, tolerant of unstable supply
~Dave S, Engineer, Derby, United Kingdom
High Efficiency, Environment compliant
~Gerard S, Marketing/Sales, Hyderabad, India
Digital sine wave inverter using mptts
~Jaspal R, Manufacturer, Faridabad, India
Also operate independent of grid
~Engineering, Other, Cape Coral, FL
Voltage regulator ac type
~King A, Engineer, Kuala lumpur, Malaysia
Transformeless over 99%
~Other, Athens, Greece
Simple and delivery
~Najiym Peejay AbdoulRazaq, Engineer, Lagos, Nigeria
Made In America
~AJ C, Proprietor, Canyon BC, Canada
DSP BASED UPS
~SHANKAR GOPAL, Manufacturer, BANGALORE, INDIA
SOLAR ENERGY
~Research & Development, Bangalore, India
Transformers
~Larbi H, Engineer, Schaumburg, IL