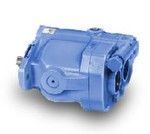 Engineering360 has asked its users about the latest design trends and features related to Piston Pumps and Plunger Pumps. They have also shared their product applications and tips on how to buy and use these products.
See the entire survey
What would your design or feature "wish list" be for this product?
13 answers
High temperature capabilities for boiler feed, as they can be very energy efficient. Should be capable of handling condensate mixed water. Economy vs size of pump balance needs to be achieved to counter disadvantages of centrifugal pumps.
~Narinder K, Marketing/Sales, Mumbai, India
1) Trouble free functioning with minimum or no maintenance. 2) Efficient to carryout prescribed product line features. 3) Materials and function to suit application.
~Purushothamdas C, Maintenance Engineer, Trichur, India
A build in variable speed, torque and stroke length controller on an electric piston pump.
~Engineering, Design, Miami, FL
A piston with pressure 2-4 bar, at 30-40 cc/min(tolerance +/-5%), continuous working.
~Giano Yip, Manufacturer, Hong Kong, Chian
Possibly rotary multi piston low rpm for longer lasting and with good head pressures.
~Peter S, Engineer, Wootton, Australia
Having a permanent magnet linear actuator as sole drive mechanism.
~Borre F, CTO, Oslo, Norway
Designed for various chemicals which are corrosive chemicals.
~Budiono Sritunggal, Technical Administration, Balikpapan, Indonesia
We do not have much of knowledge about design work.
~Sundaram Mahalingam, Technical Support, Chennai, India
Alloys for fluid end. no leaks on Stuffing Box.
~Engineering, Design, Mexico D.F:, Mexico
The ability to handle high solids content
~Eric Wanstrom, Design Engineer, Dallas, GA
Stainless Steel to titanium pumps
~Steve B, General Management, Tampa, FL
Run dry and solids handling.
~Dana N, Business Owner, Minneapolis, MN
More calm and safe
~Engineering, Design, Shebinelkom, Egypt