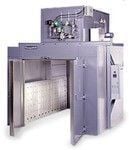 Engineering360 has asked its users about the latest design trends and features related to Ovens (industrial). They have also shared their product applications and tips on how to buy and use these products.
See the entire survey
What would your design or feature "wish list" be for this product?
10 answers
A software program that would automatically do all the calculations based on the product being manufactured to determine the type of oven or combination heat sources necessary to do the job as efficiently as possible.
~Gary S, Marketing, sales development, Beechhurst, NY
Beverage can manufacturers, drying water soluble rubber seals for ends of aluminium cans. All our induction drying ovens are designed for limited floor space, with vertical in-feed of can ends.
~Michael Silvasich, Research & Development, Melbourne, Australia
See my answers at question 4 ( new technologies) but it depends on the application and not always does it make sense to use the best.
~Hartmut K, Project Engineer Combustion Technology, Frankfurt/M, Germany
Automatic bake control via product vision software, we are presently working on this now.
~Stuart R, Owner, Houston, TX
All types of oven in the line with powder coating and liquid painting curing.
~Dipen Sheth, Manufacturer, Vadodara, India
Hot clean air flow ( 99.97% efficient at0.3 micron particle.).
~Project Management, Johore Baru, Malaysia
Smaller footprint by using advanced insulating materials
~Keith I, Marketing/Sales, Littleton, CO
More security and ease of operation and maintenance.
~Engineering, Design, Monterrey, Mexico
A precise and integral control monitoring system
~Tan Sin Seng, Facilities Manager, Subang Jaya, Malaysia
Carbon footprint, reliability, quality
~Durk V, Design Engineer, Amsterdam, Netherlands