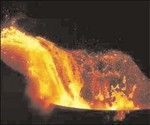 Engineering360 has asked its users about the latest design trends and features related to Ferrous Metals and Iron Alloys. They have also shared their product applications and tips on how to buy and use these products.
See the entire survey
What would your design or feature "wish list" be for this product?
6 answers
Which product???? For power station steels require high creep strength - in parent and weld HAZ material, good weldability preferably without PWHT, resistance to on-load oxidation and off-load corrosion.
~Ben G, Metallurgist, Nottingham, UK
That a plastic based material would have a ferrous metal component sufficient to be attracted to and fasten to a magnet...
~Project Management, Lindsay, Canada
Looking forward to a metal that can be sintered and keep magnetic properties
~Mario C, Project Manager, Juarez, Mexico
Appropriate corrosion resistance at low final product cost.
~Kåre J, Engineering Consultant, Vihals, Norway
Better inherent corrosion resistance.
~Mike R, Engineering Consultant, Edmonton, Canada
Availability
~Alan Iannacito, Engineering Consultant, Littleton, CO