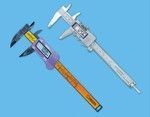 Engineering360 has asked its users about the latest design trends and features related to Thickness Gages. They have also shared their product applications and tips on how to buy and use these products.
See the entire survey
What new technologies are influencing thickness gage design?
14 answers
If the gage is Ultrasonics, then the one that can penetrate the coating and is the size of a play station and is computerized. If the gage is for physical measurements the swiss army knife type which is adaptable to all required jobs. The main area is pitting, a good gauge including corrosion pitting is hard to find and is the most important in the petrochemical industry.
~Thomas C, Quality Control, Doha, Qatar
Very thin layers, nonuniform thickness platings, gage' s measuring tip, round surfaces; concave and convex, deep grooves and holes, out-of-reach workpieces.
~Abdel- Aziz K, General Management, Cairo, Egypt
First of all people see whether the equipment is rugged and environmentally sealed to most harsh environments. Next comes the consistent readings and resolution.
~Sudheer Krishnan, Inspection engineer, Chennai, India
Electronic gauges are very important and they are more and more efficient in the newer versions
~Hiren Parikh, Managing Partner, Ahmedabad, India
Ease of Use by the Technicians Portability for field use
~Thomas Buelter B, Process Engineer, Saint Louis, MO
Nanotechnologies, ultrasonic technologies.
~Gábor P, Mechanical and Failure Analysis lab leader, Szombathely, Hungary
Remote crawlers for not accessible areas
~Other, Piraeus, Greece
Effect on substrate composition
~Reuven Porat, Technical Support, Nahariya, Israel
Interferometers
~Vesa, Builder/Contractor, Helsinki, Finland
Digital, size.
~Quality Control/Assurance, Melbourne, FL
I'm not sure.
~Customer liason, Milford, CT
Data logging.
~Engineering, Other, Karachi, Pakistan
Digital
~Wm M, Technical Consultant, Ooltewah, TN
Size
~Marketing/Sales, WELLINGBOROUGH, United Kingdom
From your perspective, which companies are creating the most innovative thickness gages?
15 answers
For me it started with the welding institute but seen that it was too expensive and was not designed for accurate pit gaging. Now made in China is the best, they have the price, quality and technology.
~Thomas C, Quality Control, Doha, Qatar
Most of them follow same technology but some are very efficient.
~Hiren Parikh, Managing Partner, Ahmedabad, India
Olympus NDT. NDT Systems Ltd, and several European companies.
~Engineering, Other, Karachi, Pakistan
We have a drop gauge and a Filmetrics. That's all I know.
~Customer liason, Milford, CT
OLYMPUS, SILVERWING, GE, MISTRAS
~Other, Piraeus, Greece
Heidelberg & Rex
~Wm M, Technical Consultant, Ooltewah, TN
Elcomer company
~Luis Quino, Quality Control, Lima, Reru
Danatronics
~Gábor P, Mechanical and Failure Analysis lab leader, Szombathely, Hungary
Davinor Ltd
~Vesa, Builder/Contractor, Helsinki, Finland
Olympus NDT
~Sudheer Krishnan, Inspection engineer, Chennai, India
Mitutoyo
~Sunil Subash, Marketing/Sales, Manama, Bahrain
Chinese
~Marketing/Sales, WELLINGBOROUGH, United Kingdom
Fischer
~Quality Control/Assurance, Minnetonka, MN
Oxford
~Reuven Porat, Technical Support, Nahariya, Israel
GE
~Thomas Buelter B, Process Engineer, Saint Louis, MO