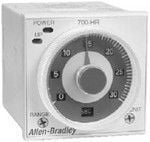 Engineering360 has asked its users about the latest design trends and features related to Time Delay Relays. They have also shared their product applications and tips on how to buy and use these products.
See the entire survey
What would your design or feature "wish list" be for this product?
10 answers
A affordable digital product would be nice if it was affordable, also one where I didn't have to use another control relay would also be nice.
~General Corporate Mgmt, Findlay, OH
Off-delay or on-delay with both timed and non-timed contacts with variable time adjustment.
~Neal B., Engineer, Houston, TX
Simple control, less expensive options, reliability, wide time range options.
~Wayne H, Builder/Contractor, Washington, DC
Short time rise. Multi ranges. Small size. Print card montage.
~Engineer, Atlacomulco, Mexico
Digital with easy delay change capability, vibration resistant
~Hal C, Owner of welding/ fab business, Houston, TX
More military grade selection / 400Hz AC operation
~Kurt M, Design Engineer, Acton, MA
Delay have function about process function in
~Engineering, Process/Production, ShenZhen, China
Simple and legible controls
~Jon R, Engineer, Clearwater, FL
As mentioned in point 5
~Sanjay A Adbol A, Manufacturer, Mumbai, India
Smaller Foot Print
~Bob H, Engineer, N Andover, MA