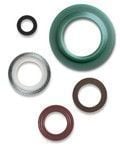 Engineering360 has asked its users about the latest design trends and features related to Hydraulic Seals and Pneumatic Seals. They have also shared their product applications and tips on how to buy and use these products.
See the entire survey
What would your design or feature "wish list" be for this product?
7 answers
Sustainability at elevated temperature and ingress of fine particles below 5 micron.
~Kelshikar N, Engineer, Manama, Bahrain
Sustainability in performance and Durability.
~Kr pillai P, Design Engineer, Chennai, India
To be more competitive, easily available.
~Maintenance/Facilities Management, Jubail, Saudi Arabia
Seals for different media like glycol.
~HIMANSHU M, Design Engineer, INDORE, INDIA
Mostly hydraulic cylinders.
~Armando M. Morales M, Technical Support, Manama bahrain, Bahrain
Seal for tunnel boring.
~Sujith Kumar, Technical Support, Bangalore, India
General use
~Engineering Consultant, Hengelo, The netherlands