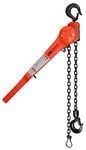 Engineering360 has asked its users about the latest design trends and features related to Hoists. They have also shared their product applications and tips on how to buy and use these products.
See the entire survey
What would your design or feature "wish list" be for this product?
11 answers
Hoist with a built in load cell that feeds back in a "wireless" way. This would allow constant monitoring of weights of delivered materials.
~Kevin O'Toole, Maintnenance planner, Sioux Falls, SD
The pendant switch module should have self reel back cables so that they may not be damaged.
~Ali A, Technical Support/Services, Wah, Pakistan
Less air consumption. Multi option on mounting.
~Marketing/Sales, Tananger, Norway
Common mounting point for trolleys to hoists.
~David E, Manufacturer, Perth, Australia
1_FEM 2_hoist protection (Temperature & load)
~Engineering, Other, HCM, Viet Nam
To design the hoist with low headroom.
~ALOJZ KLOBASA, Design Engineer, MARIBOR, SLOVENIA
Stability,the equipment been loaded.
~Ursu N, Production Engineer, Bucharest, Romania
Voice controlled lift and run
~John N, Technical Support, Kennebunkport, ME
Compact size, light weight
~SUNIL K., Manufacturer, PUNE, INDIA.
Cost
~Joe C, Project Manager, Balto., MD
Design must be cost effective improvement rope guiding device
~WILFRED PAU, General Management, ULU TIRAM, MALAYSIA