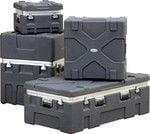 Engineering360 has asked its users about the latest design trends and features related to Industrial Containers. They have also shared their product applications and tips on how to buy and use these products.
See the entire survey
What would your design or feature "wish list" be for this product?
7 answers
Lighter than the others on the market and with a smooth and curved design in PE (with it we have enough strength that the structure does not collapse during use and the advantage of a different and low cost product).
~Nuno Aguiar, Mechanical Engineer, Porto, Portugal
Collapsible utilizing minimum space for storage when not in actual use. Easy handling aids.
~V M, Consulting design engineer, Comimbatore, INDIA
That it would be constructed from non- ferrous to enhance scrap value for terminal disposal.
~Gerry Mc, Builder/Contractor, Gold Coast, Australia
Lighter and more powerful
~Marketing/Sales, Makassar, Indonesia
More standardization
~LEJEUNE K, Technical Support, Brussels, Belgium
Self unloading
~Paul K, Research & Development, Palm Coast, FL
Special design
~Rengasamy Indran, Engineering Consultant, Port klang, Malaysia