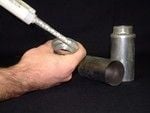 Engineering360 has asked its users about the latest design trends and features related to Epoxy Adhesives. They have also shared their product applications and tips on how to buy and use these products.
See the entire survey
What would your design or feature "wish list" be for this product?
18 answers
A high refractive-index water clear resin that could be wiped on and smoothed off to fill scratches in plastic lenses (spectacle, vehicle lamps, luminaires). This might include a non-adhesive film to lay over the resin during spreading of the resin and curing to allow smoothing down the resin without dragging it, but easily peeled afterwards. Film would need to be rigid enough to sit flat over the scratches but elastic enough to sit down on the curved surface of the lens without puckering
~John H, Purchaser, Melbourne, Australia
Make it less/or not attractive to bugs! When applied at temperatures over 70 degrees Fahrenheit, all types of bugs are attracted to the material, presumably because it is manufactured of soybeans, beans and peanuts, and the bugs are searching for food. Maybe something that makes it unattractive to bugs - yet doesn't impact its properties - could be used as an additive.
~Philip E., Builder/Contractor, Atlantic City, NJ
Highest possible thermal resistance under dynamic load conditions. This is the major factor , that limits the use of "cold cured" adhesives in dynamic load applications (these are conditions often observed in industrial brakes and clutches applications).
~General Corporate Mgmt, Gdansk, Poland
250 °C working temperature, flexible bond, resistant to contact from water or chemicals, resistant to aging ( at least a couple of years ).
~Vid Golob, Research & Development, Ljubljana, Slovenia
High strength and sustaining high temperatures and instant or very less time for curing to attain optimum strength.
~Krishnamoorthi N, Service Manager in tractor workshop., Coimbatore, India
Multi-use polyester resin that could be used on hair-line fractures in the surfboard and water sports field.
~Alistair C, Director, Edinburgh, United Kingdom
How about nano-sized particle of artificial rubber mixed epoxy to give some shock absorving character.
~Kinetorori I, Kinetic Sculptor / Kinetic designer / Electronic engineer, London, UK
One which would not require steel wool to stop it from oozing out where it has been placed
~Howard G M, Technical Support, Oldsmar, FL
For it to work long term at diffrent temperatures
~Jason B, Well i use it in my hobby making gemstone flowers, Sabden, U.K.
Non staining removable yet high bonding strength
~Marketing/Sales, Makati, Philippines
Production of Large composites in short time
~Erkki R, Research & Development, Helsinki, Finland
High overall strengtrh.long working time
~Fil A, Hobbyist, Caloocan city, Philipppines
Composite repair by using carbon fiber
~Engineering, Other, Mumbai, India
Equipment manufacturer spec
~Otto J, Aircraft maintenance, Keflavik, Iceland
Increase shear resistance
~Timothy M, Retired builder, Grangeville, ID
Fast cure, super clear,
~Marketing/Sales, Melbourne, Australia
Themal shock testing
~Engineering, Consulting, Bangalore, India
Money
~Kosta Cirkovski, Tv service locksmith tools, Maribor, Slovenija