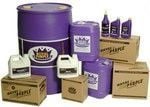 Engineering360 has asked its users about the latest design trends and features related to Industrial Lubricants. They have also shared their product applications and tips on how to buy and use these products.
See the entire survey
What would your design or feature "wish list" be for this product?
10 answers
Temperature range -200°C + 250°C High Temp Matrix Li complex or better Low Viscosity with High Load capability Excellent Water Washout Excellent Corrosion Protection Long durability for longer re-lube periods
~Engineering, Consulting, Toulouse, France
I wish for an NLGI 2 that has excellent high temperature oxidation resistance but can still be pumped hundreds of feet in an automatic lube system.
~Steve M, Technical Support, Fort Worth, TX
Longer oil life and cost effective although the two are not always mentioned in the same sentence.
~Zaakier J, Technical Support, Cape Town, South Africa
Longer bearing life and long life lubes saving energy.
~Gary E, Engineer, Bunde, Netherlands
Ability to clean, treat and lubricate. All in One.
~Chin hoe Yap, General Management, Singapore, Singapore
More available data on additive reaction.
~Trevor R, Engineering Consultant, Durban, South Africa
Infra-Red or UV cured coating systems
~George B, President Technical Sales, Houston, TX
Oil which is perfect for gas engines
~Engineering Consultant, Dhaka, Bangladesh
Long life use & high performances
~Ruxa, Technical Support, Bucharest, Romania
Shear strength High flash point
~Marketing/Sales, Osborne Park, Australia