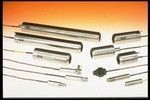 Engineering360 has asked its users about the latest design trends and features related to Temperature Sensors. They have also shared their product applications and tips on how to buy and use these products.
See the entire survey
What would your design or feature "wish list" be for this product?
11 answers
Variable wavelength Dual (ratio) low-temperature Multi-spectral Emissivity correcting
~John M, Marketing/Sales, Santa Cruz, CA
High temperature accuracy and precision, less than 0,01 degrees Celsius
~Engineer, Athens, Greece
Lower rated resistance for respective operating temperature range.
~Rutherford B, Engineer, New York, NY
Built-in: uC unit, user-recalibration, limit-values flags
~Dragomir Tch., Research & Development, Sofia, Bulgaria
Accuracy < 0.5 C, SPI port, Low power consumption.
~Salvador R, Design Engineer, Mexico, Mexico
Easy operation Lower prices Reliability
~Rodolfo Rodriguez, Almost Engenier. 3 years in Argentina and 3 year in Belgium, Buenos Aires, Argentina
Max pressure 5-600 Bar
~Ingemar Borg, Retaired 72 years, Sjaelevad, Sweden
Quikly and accuracy
~Baldomero Monzon, Research & Development, Guatemala, Guatemala
Accuracy
~Mohamad Aoun, BMS engineer, Jeddah, Lebanon
Sensors
~Jude David F, Engineering Consultant, Dubai, UAE
Si
~Engineering, Faculty/Staff/Student, GIUSSANO, Italy