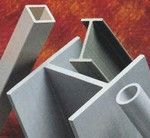 Engineering360 has asked its users about the latest design trends and features related to Plastic Plate, Rod, and Stock Shapes. They have also shared their product applications and tips on how to buy and use these products.
See the entire survey
What would your design or feature "wish list" be for this product?
10 answers
High dielectric strength at higher temperature with good breakdown voltage at 35 kvdc.
~David McLachlan, Design Engineer, Lenesa, KS
Higher temperature resistance for the engineering materials.
~Marketing/Sales, Reading, PA
600F seals for rotating equipment in steam operations.
~Edward A, Marketing/Sales, Conifer, CO
High temperature+transparent in same sheet product.
~Design Engineer, Forres, Great Britain
Complete impact resistance automobile body parts.
~Research & Development, Taytay, rizal, Philippines
More general glue ability between "the species".
~Peter B, Research & Development, Berry NSW, Australia
High strength with a low weight ratio.
~Michael K, Marketing/Sales, Vineland, NJ
Baby beds for dogs of all size,
~Ted Y, Owner of form,trim and design plastics., Corona, U,S.A.
High strength to weight ratio.
~David W, Project Manager, Cairo, Egypt
How to replace metals
~Mel E, General Management, Franklin, MI