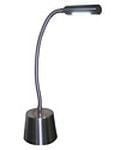 Engineering360 has asked its users about the latest design trends and features related to Lighting Fixtures. They have also shared their product applications and tips on how to buy and use these products.
See the entire survey
What would your design or feature "wish list" be for this product?
16 answers
The one which will be light weight, long life of the fixtures, aesthetics, ease of use, ease of maintenance, affordability, etc.
~Atanu S, Marketing/Sales, Ahmedabad, INDIA
Miniaturization and higher power/light output source, wider ballasts/drivers selection.
~Peter T, Engineer, Poughkeepsie, NY
Light weight, good photometry, excellent light distribution, easy to fix and remove.
~Ramakrishna Jayanti, Manufacturer, Hyderabad, India
Higher efficiency (more lumen per watt), battery back efficiency, rugged features
~Garima T, Engineer, Noida, India
Mainly good technical design: Proper heat dissipation and optimum quality drivers.
~Eduardo Pantaleon, Manufacturer, Buenos Aires, Argentina
That the price decrease by at least 60-70% within 3 years.
~EDWARD B, Engineering Consultant, WASHINGTON, U.S.A
For Facade Lighting, Landscaping & Sports Lighting.
~Blesilda Lising, Design Engineer, Abu Dhabi, United Arab Emirates
Built-in baseboard LED with solar/battery backup.
~Residential electrical wiring construction author & electrician, Seattle, WA
More LED type hazardous area lighting fixtures.
~Glen D, Maint Supervisor, Maryborough, Australia
Built in sensors, occupancy, light level, etc.
~Quality Control, Philadelphia, PA
Energy efficiency, longevity and light output
~Colin L, Lighting design, Wanganui, New Zealand
High light output, very low wattage
~Engineering, Design, Unanderra, Australia
Flexible, tiny space reachable
~Tan J, Engineer, Johor Bahru, Malaysia
LED oriented, dimmable
~David Wang, Project Manager, Beijing, P.R.China
Parts and assemblies
~Engineering, Design, HRASTNIK, Slovenia
Low cost
~Dave D, Engineering Consultant, Mercia, U.K.