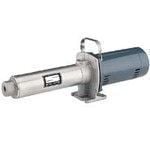 Engineering360 has asked its users about the latest design trends and features related to Booster Pumps. They have also shared their product applications and tips on how to buy and use these products.
See the entire survey
What new technologies are influencing booster pump design?
8 answers
Space requirements (foot print of pump), flow rates, ease of maintenance.
~Murray B, Facilities Manager, Brisbane, Australia
1- In-built VFD controllers 2- Premium efficiency motors
~Engineering, Other, Kuwait, Kuwait
Well maintained controller need to install
~Swaraj Soman, Technical Support, Dubai, UAE
Materials and high efficiency motors.
~Claudio Moreira, Engineer, Resende, Brazil
Pumps for special fluids.
~Engineering, Design, Singapore, Singapore
Variable speed
~Dany Alsheich, General Management, Azur, Israel
Advanced seals
~Cpt. Jim M, CEO/Diving Ops Supervisor/Captain, Lighthouse Pt, FL
Materials
~Field A, Technical Support, Buenos Aires, Argentina
From your perspective, which companies are creating the most innovative booster pumps?
7 answers
I only have experience of the Haskel pumps.
~Jorgen G, Purchaser, LINKOPING, SWEDEN
Tri-Clover Pumps, Byron Jackson.
~Murray B, Facilities Manager, Brisbane, Australia
1- Grundfos 2- ITT - Lowara
~Engineering, Other, Kuwait, Kuwait
Haskel, Maximator
~Engineering, Design, Singapore, Singapore
Flojet, Shurflo
~Field A, Technical Support, Buenos Aires, Argentina
Grundfoss
~Dany Alsheich, General Management, Azur, Israel
Haskel
~Cpt. Jim M, CEO/Diving Ops Supervisor/Captain, Lighthouse Pt, FL