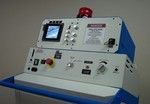 Engineering360 has asked its users about the latest design trends and features related to Hipot Testers. They have also shared their product applications and tips on how to buy and use these products.
See the entire survey
What would your design or feature "wish list" be for this product?
11 answers
Multiple Programmable test sequences Ability to download test results (to std. MS Office would be a bonus!)
~Paul V, Engineering Business Manager, Perth, Australia
arc detect ad and dc and insulation resistance data base ethernet connection = one box
~ADRIEN B, Design Engineer, PALO ALTO, CA
Easy to use and program Higher degree of safety for operator and equipment under test
~Shrinivas Piddugu, Engineer, Pune, India
Ease of use, highly mobile, battery and main power input, auto voltage ramp up time.
~Jim G, Technical Support, Dubai, United Arab Emirates
Leakage current, KV applied, time, Keep in memory, output to PC and software
~General Corporate Mgmt, Medellin, Colombia
Not overly complex to learn uses of machine
~Ken D, Tester , workshop - now retired ., Gloucester, UK
Total bluetooth interfaced. More Mobile.
~Engineering, Other, Middleburg, South Africa
Controlled and monitored by computer
~John C, Research & Development, Stilbaai, South Africa
Partial discharge free (<2 pC)
~Paul W, Engineer, Grantsville, MD
Better graphics
~Jose Luis Coca, Engineer, Santa Cruz, Bolivia
Easy operation
~MingRun SONG, Facilities Manager, Wuhan, China,PRC