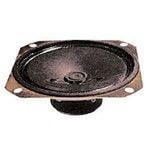 Engineering360 has asked its users about the latest design trends and features related to Speakers. They have also shared their product applications and tips on how to buy and use these products.
See the entire survey
What would your design or feature "wish list" be for this product?
14 answers
We must develop a new linear speaker for the frequency between 100 and 15000 or 18000 and a push pull driver for the low frequency. With the new magnet, the new flexible board, and the new computer possibility I think that it is possible to explore new ways.
~Pratali Alain, Engineering Consultant, Marseille, France
My 'wish list' is a full range dipole system in a room with fully adapted acoustics.
~Eddie V, Faculty/Staff, Eindhoven, Netherlands
Simple square design, strong mesh, ease of connection with standardized connectors.
~ROGER W, Design Engineer, ALFRETON, UK
Flat-wound multi-layer voice coils. High temperature formers.
~Bill M, Owner, Newton, MA
The product must be small in size and watts must be more.
~Santhosh B, Purchaser, Bengaluru, India
Terminals that work. Reasonable price for quality.
~Richard M, Engineer, Sarasota, FL
Flat frequency response in big events.
~Research & Development, Den Dungen, Netherlands
Electrostatic + audience + sub woofer
~James B, Research & Development, Oceanside, CA
High fidelity, durability.
~Facilities Manager, College Park, MD
Active baffle loudspeakers
~Jaromír Hodinka, Research & Development, Brno, Czech Republic
Light weight PA system
~Joe S, Design Engineer, Barrie, Canada
Bluetooth 3d dolby
~Robert S, Technical Support, Prague, Czech republic
Efficiency
~Research & Development, Nakornpathom, Thailand
Wireless
~Other, Lafayette, CA