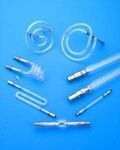 Engineering360 has asked its users about the latest design trends and features related to Lamps. They have also shared their product applications and tips on how to buy and use these products.
See the entire survey
What would your design or feature "wish list" be for this product?
12 answers
Units of smaller bulbs and systems. I am very close to achieving this for wide uses for small to larger system.
~Brian S, Have other project to finish soon,., Christchurch, New Zealand
DIY kits with quality, affordable materials, and "end-user" engineering considerations.
~Rik R, I solve problems, and fix things &/or make them better, Thorsby, Canada
Inductive lamps with under 50 W power (220V / 12 V supply) .
~ADRIAN MORUZI, RETAIRED ELECTRONICS ENGINEER,, BRASOV, ROMANIA
Relatively long life and energy savings.
~Roberto V, Research & Development, Manila, Philippines
Affordable, Integrated power supply
~Builder/Contractor, Stockton, CA
In house power generator for lamps.
~Naga Bhushana, Manufacturer, Bangalore, India
Last longer, color rendition
~ANTHONY P, Purchaser, WALDORF, MD
True values in specs sheets
~Darius G, General Management, Cheste, Spain
High Lux with little watt
~Satrio Hadi Suryono, Architect, Surabaya, Indonesia
Lower purchase cost
~Mark F, Builder/Contractor, Barstow, CA
Better Prices.
~Anazion Cordeiro, Purchaser, Atlanta, GA
Efficiency
~Goran P, Research & Development, Belgrade, Yugoslavia