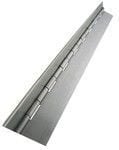 Engineering360 has asked its users about the latest design trends and features related to Hinges (industrial). They have also shared their product applications and tips on how to buy and use these products.
See the entire survey
What would your design or feature "wish list" be for this product?
6 answers
There are too many types to make a wish list.
~Brendan I, Industrial manufacturing maintenance superviser, San carlos, CA
IP 65 or NEMA 4, 180° opening angle
~Michael R, Manufacturer, Düsseldorf, Germany
Less tolerances
~Chris Schodts, Purchaser, Brussels, Belgium
Security system
~engineering, design, sens, france
Never worn out
~Engineering, Consulting, Ho Chi Minh, Viet Nam
Ease of use
~Engineering, Process/Production, Northop, United Kingdom