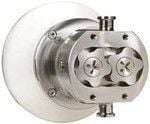 Engineering360 has asked its users about the latest design trends and features related to Wastewater Pumps. They have also shared their product applications and tips on how to buy and use these products.
See the entire survey
What would your design or feature "wish list" be for this product?
8 answers
Reliable Does Not Clog Easy to Clean and Maintain Efficient In Stock Availability Repair Parts Self Priming
~Bill K, General Management, KC, MO
Expanded vortex product offering and utilizing VFD's as much as possible.
~Chad S, Marketing/Sales, Powhatan, VA
Easy removal for maintenance and clearance of obstructions and rag.
~Robbie B, Electrical Technician, Worthing, United Kindom
Robust non-clogging impellers, improved efficiency
~Alan G, Engineering Consultant, Belfast, United Kingdom
Vertical cantilever design for hot temp (180 °C).
~Hans V, Technical Support, Geraardssbergen, BELGIUM
No clog ,more discharge and most efficient.
~Dan J, Wasterwater collections supervisor, Hilton head, SC
Integrated level switch
~Jon N, Manufacturing, Blandford Forum, UK
Non corrosive
~Kees Heij, Project Manager, Havelte, Netherlands