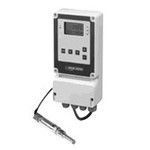 Engineering360 has asked its users about the latest design trends and features related to Moisture Meters. They have also shared their product applications and tips on how to buy and use these products.
See the entire survey
What would your design or feature "wish list" be for this product?
9 answers
NDT figures being close to actual moisture % values rather than comparative ability to take resistance readings directly from any porous material such as stucco, concrete, brick and composite materials such as sheet fiber cement board.
~Paul Probett, Forensic Building Pathologist, Tauranga, New Zealand
Intrinsic Safety (IECex) Ability to measure up saturated state (100%RH) High Accuracy Good resolution Repeatability of results
~Engineering, Consulting, Corinda, Australia
1. include manual, conversion tables if available. 2. higher range of working temperature. 3. more sensitivity on detecting moisture.
~Engineering, Design, Quezon city, Philippines
Simplicity of use: Put it up to surface, it registers data
~Mike S, General Management, Boca raton, FL
Easier calibration procedures
~Ettore C., Marketing/Sales, Miami, FL
Compact and easy to use
~Rajeev G, Manufacturer, Delhi, India
Better sensitivity
~Engineering, Consulting, San Francisco, CA
Cost reductions
~Bjarne M, Process Engineer, Glostrup, Denmark
Rechargeable
~Dan P, Marketing/Sales, Basking Ridge, NJ