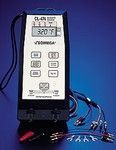 Engineering360 has asked its users about the latest design trends and features related to Calibration and Reference Standards. They have also shared their product applications and tips on how to buy and use these products.
See the entire survey
What would your design or feature "wish list" be for this product?
7 answers
An updated version of reference standard designed to regulate this new technology, updating the current standards with this new technology.
~Gregorio De la Cruz, Quality Assurance Mgr., Houston, TX
Spirit levels, clinometers, dumpy levels, theodolites & total station as well as collimators & auto collimator.
~Andries S, Owner, Brakpan, South africa
We would like to develop the measuring standards for calibration lab.
~Pankaj Patel, General Management, Vadodara, INDIA
Pressure gauge calibration tester
~Superintendent in standards room for aviation maintenance tools, Beirut, Lebanon
High potency and lower price.
~Ida G, Pharmaceutical, Baltimore, MD
FPD detector
~RADULESCU MARIUS, Technical Support, PLOIESTI, ROMANIA
Easy to use
~Javier R, Quality Control, Valencia, Spain