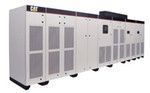 Engineering360 has asked its users about the latest design trends and features related to Three Phase Uninterruptible Power Supplies (UPS). They have also shared their product applications and tips on how to buy and use these products.
See the entire survey
What new technologies are influencing three phase uninterruptible power supply design?
24 answers
Photovoltaic arrays, wind turbines, fuel cells, advanced low limit grounding required now, smaller and smaller rooms for electrical power equipment in facilities.
~Ralph J, P.E., Chief, Senior Electrical Power Engineer, Sterling, VA
System integration, redundancy, separation from prime power to allow the UPS to act as a filtering mechanism for "dirty" power, to protect DCS/PLC systems.
~Roger W, Estimating Procurement Manager, Overland Park, KS
Higher efficiencies from MOSFETs New battery technologies, or battery replacement (capacitors) Intelligent remote control Modularity
~Bruce T, Engineering Consultant, Perth, Australia
1) UPS with IGBT rectifier and IGBT inverter with inbuilt isolation transformer 2) Modular UPS systems
~Sudhir KULKARNI, Area Manger Marketing/Business development, Mumbai, India
IGBT input for unity input power factor. DSP for N+1 one redundancy. Bridge topology for high efficiency.
~Selim A, Engineering Consultant, Istanbul, Türkiye
Self synchronizing ability, I would imagine, coupled with DC - AC pure sine wave technology.
~Spike, Technical Support, Matamata, New Zealand
New IGBT mosfets make it possible to get a better overall efficiency.
~Didier S, Design Engineer, Veldhoven, The Netherlands
New types of transistors with higher switching frequencies.
~Gunnar H, Technical Support, Oslo, Norway
Modular design for light weight component replacement.
~Jere R, Network Manager, Jeffersonville, KY
For industrial UPS, SCR -Rectifier & IGBT -Inverter
~VIBHAKAR L PATEL P, Soltion provider cum marketing, RAJKOT, India
Transformerless technology.
~Engineer, Sault Ste. Marie, Canada
Rotary design improvements.
~Facilities Manager, Las Vegas, NV
Igbt rectifier & inverter
~Engineering, Consulting, Cochin, India
DSP , IGBT receiver
~Manufacturing, Chennai, India
PWM technology used
~SURESH GHOBLE, EMI/EMC Design Engineer, PUNE, INDIA
The client needs
~Jerry G Sales and installation, Marketing/Sales, Muskogee, Muskogee
Micro processor
~Maintenance/Facilities Management, Rawalpindi, Pakistan
High frequency
~S DATTA, Marketing/Sales, New Delhi, India
High frequency
~Purchasing, Giugliano in campania, Italy
Modular design
~RAKESH B, Marketing/Sales, DELHI, INDIA
Data centers
~Athens, Greece
Modulation
~Engineering, Other, Trivandrum, India
Modularity
~Engineering, Design, Luanda, Angola
Igbt
~Lazaro G, Technical Staff, Manila, Philippines
From your perspective, which companies are creating the most innovative three phase uninterruptible power supplies?
22 answers
1) Emerson Network Power 2) DB Power Electronics 3) Chloride 4) Gutur .Etc
~Sudhir KULKARNI, Area Manger Marketing/Business development, Mumbai, India
1. Emerson network power 2. Eaton/MGM 3. Gutoor
~SURESH GHOBLE, EMI/EMC Design Engineer, PUNE, INDIA
Just looking for solutions to different companies.
~Tomasz K, General Management, Cracow, Poland
Italy (Aros-Converex,etc), APC, MgeUPS
~Athens, Greece
Emerson Liebert, Eaton, APC (MGE)
~Gunnar H, Technical Support, Oslo, Norway
American Power Conversion Eaton
~Facilities Manager, Las Vegas, NV
Emerson Liebert and Gamatronics
~RAKESH B, Marketing/Sales, DELHI, INDIA
Delta, Socomech, Emerson
~VIBHAKAR L PATEL P, Soltion provider cum marketing, RAJKOT, India
Gutor, Chloride, Piller
~SUBHASH P, Engineer, ABU DHABI, United Arab Emirates
Eaton, Leibert, APC
~Jere R, Network Manager, Jeffersonville, KY
Solar, Eaton C-H
~Roger W, Estimating Procurement Manager, Overland Park, KS
CE+T Liebert
~Selim A, Engineering Consultant, Istanbul, Türkiye
APC, Emerson
~Engineering, Design, Luanda, Angola
APC, Emerson
~Lubomir B, Engineer, Sofia, Bulgaria
Socomec, GE
~Engineering, Other, Trivandrum, India
Socomec, MGE
~Engineering, Consulting, Cochin, India
Siemens
~Bruce T, Engineering Consultant, Perth, Australia
Kohler
~Khalid N, Senior engineer, Markham, Canada
Newave
~Engineer, Sault Ste. Marie, Canada
Eaton
~Manufacturing, Chennai, India
MAXX
~S DATTA, Marketing/Sales, New Delhi, India
CE+T
~Lazaro G, Technical Staff, Manila, Philippines