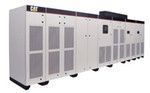 Engineering360 has asked its users about the latest design trends and features related to Three Phase Uninterruptible Power Supplies (UPS). They have also shared their product applications and tips on how to buy and use these products.
See the entire survey
What would your design or feature "wish list" be for this product?
15 answers
Highest possible MTBF, Lowest MTTR, Highest possible efficiency at 75% load Individual battery equalization Modular parallel with no single point of failure Input power correction Protection against load back feed
~Selim A, Engineering Consultant, Istanbul, Türkiye
High Efficiency UPS systems with less foot print and low operating cost. ITHD must be less than 3% with unity PF at input of UPS. Most importantly, as the name suggests, it should be uninterruptible, i.e reliable.
~Sudhir KULKARNI, Area Manger Marketing/Business development, Mumbai, India
That the UPS would accommodate multiple types of relays whether Schweitzer, Multi-Lens, Electro-Switch, GE or Basler; every client has their own favorite.
~Roger W, Estimating Procurement Manager, Overland Park, KS
Above 1 MW, true modular solution with capacity for online repair utilizing a minimum footprint. Dual conversion with almost unity power factor.
~Facilities Manager, Las Vegas, NV
Utilizing the fact that the unit is in phase with the supply, I would allow the ability to feed excess power back to the grid.
~Spike, Technical Support, Matamata, New Zealand
We need information on three phase power inverters and their COST from 5kW to 1MW as well as technical data on these units.
~Jerry G Sales and installation, Marketing/Sales, Muskogee, Muskogee
UPS must be able to deal with a higher non-linear load as inductive and capacitive load than today.
~Gunnar H, Technical Support, Oslo, Norway
More user configurable options, for example: User defineable safety settings.
~Didier S, Design Engineer, Veldhoven, The Netherlands
Higher efficiency over a wider power range.
~Bruce T, Engineering Consultant, Perth, Australia
Better integration into the IT ecosystem.
~Engineer, Sault Ste. Marie, Canada
Better scalability of modular units.
~Jere R, Network Manager, Jeffersonville, KY
Input pf, efficiency
~S DATTA, Marketing/Sales, New Delhi, India
As compact as possible.
~Athens, Greece
Socomec , GE
~Engineering, Other, Trivandrum, India
Fault
~Lazaro G, Technical Staff, Manila, Philippines