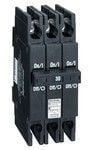 Engineering360 has asked its users about the latest design trends and features related to Circuit Breakers. They have also shared their product applications and tips on how to buy and use these products.
See the entire survey
Do you have any advice for people relative to buying or using a circuit breaker?
50 answers
Know what you need before you go looking. There are a lot of questions that a salesperson will have regarding your needs. That information should be at hand to prevent multiple search and find missions. Relative info would include: System Voltage, Amperage and Interrupt Rating required. Are they replacing a breaker or adding? If adding, to a distribution panel and if so, what type? What is the application?
~Colin K, Sales, Design and Production, Houston, TX
Do not overlook the quality vendors of surplus, used, reconditioned or reconfigured electrical distribution equipment. If you have a need for adding to or extending your low or medium voltage installed base system or a short lead time for procurement and emergencies, this market segment is prepared to assist.
~Larry L, Manufacturer, Plant City, FL
Consult with a knowledgeable power systems engineer before changing circuit breaker settings. Do not allow maintenance personnel to change breaker trip settings without specific written instructions. Maintain circuit breakers per manufacturers' specified schedule for reliable operation.
~David P, Engineering Consultant, Pickens, SC
Know the required details on your application and choose your CBEs accordingly. Don't look for the cheapest products in the market - spending an extra dollar on a CBE could be the difference between an expensive burned-out product and one that has survived a serious electrical fault.
~Mark P., General Management, Sevilla, Spain
Do your research on any past problems a manufacturer has had. Do your selective coordination regardless of whether it's normal or emergency power. Even though NEC only requires it on emergency and standby systems.
~Warren C, Senior Electrical Designer, Columbus, OH
Select the most appealing make and models of CB-s specific to your process applications, then (unless you experience dissatisfaction in some aspect) stick with the same make and models across your entire plant/factory......
~Thomas U., System Engineer, Clarington, Ontario, Canada
New electronics open a window on a world of extraordinary solutions, with connectivity options never seen before in the market. The new technology circuit breakers offer increased performances in smaller frames, safer operation and reduced maintenance.
~Mike B., Engineering Consultant, Los Angeles, CA
Catalogs are not correct, errors in dimensioning, hence while designing cut out on doors as well as bus bar arrangement or routing take care or get exact sample- mainly for Siemens. All bus bar are cu base while in India it is Al which is popular option. Here contact between Breaker output connection and Al bus bar is subject of study.
~Milind A, General Management, Pune, India
When using air circuit breakers, be sure you have a thorough understanding of their operation and maintenance. Failure to properly maintain your breakers can result in catastrophic failures.
~Bob P, Faculty/Staff, Idaho Falls, ID
Pay close attention to trip unit, learn and understand the difference between thermal and magnetic operation, select breakers that most appropriately match the load served.
~Engineering Consultant, Cincinnati, OH
Select appropriate breakers which is suitable for your application. You need to have the full load current, system voltage level and loading to select the circuit breakers.
~Siva Chandran, Design Engineer, Bangalore, India
Specify properly the rated current, symmetrical RMS short circuit withstand current, peak current & verify the dc component capability.
~Mohammed Jahir H, Engineering Consultant, Kuala Belait, Brunei
Always use the safest methods, procedures & safety equipments (arc flash and arc proof) when operating circuit breakers.
~Technical Support/Services, Sherbrooke, Canada
Get the basic knowledge on circuit breaker like its breaking capacity , Icu, Ics, Icw, Icm etc, utilization category etc...
~Technical Support, Singapore
Ask for warranty and for previous references, also request number of years a firm has been in this business.
~Raymond W, Engineer, Boston, Suffolk
Read that spec of the equipment you are protecting, conduct space-proofing for the enclosures you are using.
~John B, Construction manager, Brisbane, Australia
Details, details, details- Take a picture and send it to a pro if you don't know what you're looking at.
~Mike V, Marketing/Sales, Tampa, FL
If little knowledge is known, consult an individual who is competent and informed about this area.
~Tom R, Builder/Contractor, Princes Risborough, England
Ensure if branch circuit application to buy a unit rated UL489, not 1077 if using Mini CB's.
~Sean M, Engineering, Design, Calgary, Canada
Purchase from a manufacturer that will be around to support it for its expected lifetime.
~Jeff G, Engineer, Phoenix, AZ
Check for minimum on resistance, speed of response, adequate max interrupt current rating.
~Mark B, Design Engineer, American Fork, UT
Buy from a reliable source. Check and determine whether an MCCB or a MCB is required.
~JAYARAM K, Design Engineer, Seremban, Malaysia
Voltage and interrupting capacity, application to be checked before purchasing.
~Jean Bozonat, Project Manager, St Hubert, Canada
Opening/Closing time, drop off value are meeting your system requirements.
~Khalid Al-Zelaibani A, Engineer, Yanbu, Saudi Arabia
Buy breakers that will be readily available or can be retrofitted.
~Phillip Serna, Project Manager, Hayward, CA
Don't use cost as the only consideration in purchasing breakers.
~Tom M, Engineer, Honolulu, HI
Make sure that the design engineer knows the applications.
~Steven E, N FL and S GA Engineering Manager, Jacksonville, FL
Review the derating curves before selection of the device.
~Degory H, Senior Project Engineeer, Dallas, TX
Make sure they select the correct interrupting capacity.
~NEIL T, Estimaing Manager, Melbourne, Australia
Ampacity and SC capacity should be of vital importance.
~Noorudeen K, Engineer, Dubai, UAE
Make sure you have DC rated breakers for DC circuits.
~Mike M, Technical Support, Atlanta, GA
Try to select circuit breakers with standard base.
~General Management, Kakira, Uganda
Stick with the same brand if proven to be good.
~Technical Support, Tulsa, OK
No. Just selected properly for the application.
~Engineering Consultant, Carol Stream, IL
Do your homework first, know your application.
~Trent B, Field Applications Engineer, Ottawa, Canada
Just to make sure they fit your application.
~Electrician, Castle Rock, CO
Be sure the breaker is not counterfeit.
~Steve H, Marketing/Sales, Paducah, KY
Please give training for new product.
~Senthilkumar Dhanavelu, ELECTRICIAN, Rasal khaimah, UAE
Knowing how to protect your equipment.
~Lester Morales, Technical Support, Hahnville, LA
Buy the right breaker for the panel.
~Corey M, Builder/Contractor, Tionesta, PA
Stay with a top quality Brand.
~William (Bill) Lang, Project mnanager from 1954 on till retirement, Boonville, MO
Testing, testing and testing
~Gene, Design Engineer, Columbia, MD
Environmental friendly
~Yook YK, Engineer, Seoul, Republic of Korea
Buy a reputable make.
~Engineer, Kajang, Malaysia
BUY the branded ones
~Kariyalil Radhakrishnan, Engineering Consultant, Conakry, Rep. Of Guinea
After sales service.
~Dayananda S, Project Manager, Doha, VI
Do your research.
~Lou P, Research & Development, Moon Twp., PA
Get experience
~Charles W, Retired engineering /sales V.P., San Digo, CA
Look at fuses
~Huber Christian, Engineer, Genève, Switzerland
COMPARE
~Ralph P, Estimator, Gloucester, VA