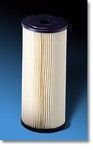 Engineering360 has asked its users about the latest design trends and features related to Filter Elements. They have also shared their product applications and tips on how to buy and use these products.
See the entire survey
What would your design or feature "wish list" be for this product?
6 answers
Flexibility sharp particle size cut-off nylon media air bubble removal
~Tom L, Process Engineer, St.Paul, MN
Easy to mount and maintain, self cleaning, alarm monitoring and dialer.
~General Corporate Mgmt, Lisboa, Portugal
Alternate materials of construction.
~Albert N, Process Engineer, St. Louis, MO
I want water:solvent mixer separation or concentration of solvent by removing water.
~Prabakaran K, Process Engineer, Bangalore, India
More micron range.
~Barrie L, Sourcing Specialist, Edmonton, Canada
Something simple and cost effective.
~Cory M, Marketing/Sales, Rayne, LA
Is there any advice you want to share with users to help them avoid common errors in selection or usage of a liquid filtration element?
2 answers
Always engage the operators who use the equipment before selection of filter type.
~Tom L, Process Engineer, St.Paul, MN
Know your system requirements.
~Barrie L, Sourcing Specialist, Edmonton, Canada