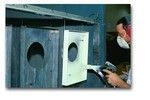 Engineering360 has asked its users about the latest design trends and features related to Coating Services. They have also shared their product applications and tips on how to buy and use these products.
See the entire survey
Do you have any advice for people relative to buying or using coating services?
35 answers
Ideally, select a coating service supplier that is capable of providing all aspects of the service "in house". If they have to out source certain aspects of the service (i.e. surface prep), problems arise more frequently.
~Lawrence L., Research & Development, West Chester, PA
Always choose the most suitable coating for the project Always prepare the surface correctly Always apply the product in the right environment ( temperature, humidity,moisture) Allow correct curing times
~Sean O'M, General Management, Birr, County Offaly, Ireland
Always ask for application methods, and supervised by supplier expert. Please do not go by just tall claims by anybody. Use your own judgment based on your process parameters.
~Divaspati H, Associate Vice President, Mumbai, India
Please select the coating services which is suitable or appropriate for your parts with respect to application requirements. Don't simply copy the system which others are using.
~Ram Rajasekharan, Managing Partner - GE Process, Chennai, India
Make sure that there is a high percentage of solids in the paints they purchase, preferably with an epoxy base for endurance.
~Production Assistant, Quincy, IL
You need to know what are needs for paint. Price is, of course, an important thing but not the only reason for choosing.
~Jorma K, Production Engineer, Turku, Finland
Be aware. Research the finish and be knowledgeable of the properties and then test test test...
~Sourcing Analyst for Metal Finishes, Brillion, WI
Expect to spend a lot of time trying to find someone close or willing to do small projects.
~Project Management, Minneapolis, MN
Coating is the most efficient method to increase value and life-time of your products.
~Gomze L. A., Dr. Eng., Head of Department, PhD, Miskolc, Hungary
Stay in close contact with your manufacturer's technical staff and your association.
~Don C, Quality Control, Pittsburgh, PA
Ask questions, get professional advice, give correct information as to the project.
~Junior J, Engineer, Port of Spain, Trinidad
Talk to present customers using what you are interested in before making decision.
~Marketing/Sales, Wales, WI
Always use coating equipment/services offering energy and water conservation.
~Usman K, Project Manager, Lahore, Pakistan
Use a contractor with a good resume of successful repairs, good references.
~John H, General Management, Little Falls, NJ
Be aware of how fixturing, i.e. how parts are held, can influence results.
~David S, Marketing/Sales, Waynesboro, VA
Ask the experts and then trial it under controlled conditions.
~Alan B, Technical Director, Carlisle, UK
Surface preparation is the most important part of the system.
~Santino Chami, Managing Director, Port of Spain, Trinidad, Trinidad and Tobago
Please ensure proper surface preparation before coating.
~Vipin P, Technical Support, Ankleshwar, India
E coat for visible surfaces, phos & oil for low cost.
~John B, Project Manager, Roseville, MI
Look for a successful track record in past projects.
~Larry H, Estimator, Weir, TX
Consider buying a state-of-the-art coating system.
~Research & Development, Hosur, India
Consult the experts before they plan the product.
~Ricardo B, Process Engineer, BNEI BERAK, Israel
Listen to recommendations, not flashy advertising.
~Nik Cuttelle, Director of an marine coatings and application company, Antibes, France
Yes, Back up the process with support services.
~Trevor A, Research & Development, Jewells NSW, Australia
In the long-run you save money and time.
~Lutz (male) Robitzsch, Owner, Monheim am Rhein, Germany
Choose proper coating for application.
~Wood coatings, Toronto, Canada
Seek out a professional service.
~Lloyd D, Quality Control, Johnstown, PA
You get what you pay for....
~Purchasing, Litchfield, MN
Use your supplier's expertise.
~Mike Traczyk, Marketing/Sales, Montreal, Canada
Clearly specify requirement.
~K C, Engineering Consultant, Kuessaberg, Germany
You get what you pay for!
~James B, Project Manager, Youngstown, OH
Choose correct system
~Dipak M, Research & Development, Sharjah, U.A.E.
Price vs capability
~Larry T, Process Engineer, Texarkana, TX
Pressurized chamber.
~Maxwell Fu, Marketing/Sales, Taipei, Taiwan
Avoid them
~Architect/Builder/Contractor, Menands, NY