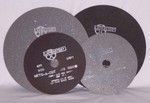 Engineering360 has asked its users about the latest design trends and features related to Bonded Abrasives. They have also shared their product applications and tips on how to buy and use these products.
See the entire survey
What new technologies are influencing bonded abrasive design?
8 answers
Metal Bonded Diamond Abrasive, two sided block, Multi phase Multi Scale
~Raja R, Research & Development, Karur, India
Roasting, hardness, grains size & shape
~SREEKANTH A, Purchaser, Bangalore, India
Bonding blends with superabrasive grains.
~Marketing/Sales, Oldsmar, FL
It is Seed - Gel and ceramic
~Marketing/Sales, Ho Chi Minh, Viet Nam
Nano technology
~Quality Control/Assurance, Hosur, India
Innovations are infinite. Present technologies are influencing in faster production in minimum operations, high material removal using Diamond, CBN abrasive materials.
~Venugopal C.K., Project Manager, Bangalore, India
Grain material
~Tim M, Facilities Manager, Vandergrift, PA
It is SG
~Purchaser, HO CHI MINH CITY, Viet Nam
From your perspective, which companies are creating the most innovative bonded abrasives?
8 answers
Saint-Gobain, Osborn mfg, 3M
~Raja R, Research & Development, Karur, India
Grindwell Norton, Orient abrasives, CUMI
~SREEKANTH A, Purchaser, Bangalore, India
We are following the technology of NORTON
~Marketing/Sales, Ho Chi Minh, Viet Nam
We are selling NORTON in the market
~Purchaser, HO CHI MINH CITY, Viet Nam
3M,Saint gobain,CUMI
~Quality Control/Assurance, Hosur, India
Carborundum Universal & Grndwel Norton from india. Also few Chinese industries naming few are Montebianco(M.B.abrasives.Really good innovative and cost effective.(Specially for Granite processing), Italian company is LUNA abrasives for Granite and Marble Polishing)
~Venugopal C.K., Project Manager, Bangalore, India
3m
~Tim M, Facilities Manager, Vandergrift, PA
3M
~Engineering, Process/Production, Liverpool, United Kingdom